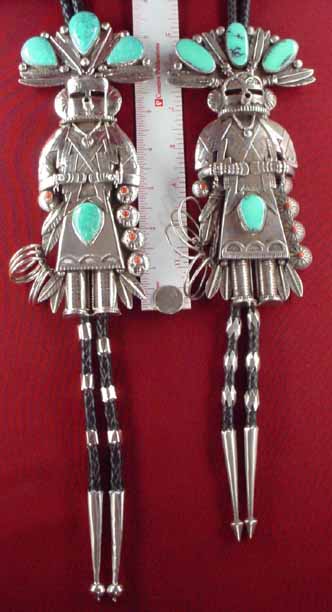 #U92B-41892 (Only the one on the left side in this photo is for sale)
#U92B-41892. The bolo tie on the right (in the photo to the left) is one the Ugly Otter purchased decades ago from the Bankruptcy Court in Albuquerque, NM., and it's not for sale. We are showing both of these for comparison purposes. It's maker was a Navajo by the name of "Jerry Roan". It is estimated that it was twenty to thirty years old when the Otter purchased it. He has worn it for decades, and received so many offers to buy it, that he finally commissioned a Native American Silversmith to make another one for us. The Otter's is not for sale. It is only shown here so you can compare the two.
The one to the left of Ugly Otter's bolo tie (and in the photo to the right) was made by a Navajo lady silversmith named Betta Lee, at the request of the Ugly Otter. (The Ugly Otter had to leave his Bolo Tie for several months to be used as a pattern for Ms Lee. And, he missed not wearing it!) (In the picture on the left screen) The one that is for sale on the left measures 7-1/2" tall and are 3-1/2" wide. The Ugly Otter's (to the right of it) measures 7-1/8" tall and is 3-1/2" wide, The stones on the one for sale are Pilot Mountain Turquoise & Coral, As you can see, it is not an exact duplicate, but it is close! It is all sterling silver, and the bolo cord is woven brown leather and is 8mm in diameter. The Kachina it represents is the "Morning Singer". We are told that the Morning Singer's job is to go through the Pueblo early in the morning singing the news of the night. He is also responsible to notice any hungry children who are not being fed, and see to it that they get something to eat. The price on this bolo tie, $2700, The item number is U92B-1916. It can be put on lay-away for only $540.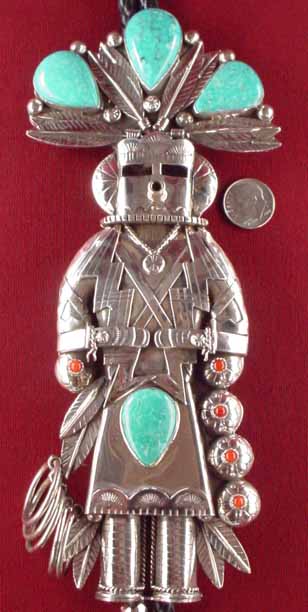 #U92B-41892 (A closer look at the one for sale)